The City not in the city
After the highs of consecutive promotions and the lows of the withdrawal of their sponsor and two brutal seasons in the Unibond league, Durham City set up for the 2012/13 back in the Northern League Divsion One, the ninth tier of English football.
City had a steady first season back, consolodating and finishing in 15th position with goals aplenty. City scored 90 but also conceded 90 finishing with a goal difference of zero. With the second season in the Northern League equally as unspectacular, City were in the national news when on December 19th 2013 it was announced that they had been bought by Olivier Bernard, the former Newcastle United fullback.
At the time, Bernard announced ambitious plans to create links with the big three professional clubs in the North East. "I want to make Durham one of the best feeder clubs in the north east. At the moment, I don't think the area develops enough youngsters."
"I want to raise the profile of the club and get links with Sunderland, Newcastle and Middlesbrough. Look at the England team, how many of them are from around here? I'll do everything I can to get players to Durham and help develop them."
Less than two years later things were beginning to unravel. Another mid-table finish during Bernard's first full season was followed up by a boiling over of relations between Bernard and the owners of New Ferens Park. In October 2015 Bernard announced that City would be leaving New Ferens Park and looking for groundshare arrangements. Bernard cited the punitive terms of the tenancy agreement City had with the owners of New Ferens leaving them unable to grow commercially or financially.
Sedd Leisure, who own New Ferens Park, offered to buy the club back from Bernard for the same price he paid, and donate it to a trust, but Bernard refused this offer, instead agreeing on a groundshare with Consett at their new Bell Vue ground, ironically sporting an artificial pitch which had caused City such trouble in years gone by. The season continue to spiral out of control and City were relegated from Northern League Division One finishing third bottom, four points from safety. The groundshare with Consett was extended for a year as they finished 10th, failing to secure promotion at the first attempt.
City then moved to Willington, a little closer to Durham but still 35minutes on a bus for anyone who doesn't drive and without the ability to drive their own economic interests. Vast turnover of both playing and managerial staff saw City finish rock bottom of Northern League Divison Two in 2018/19, winning only five of their 38 games. Relegation to the Wearside League was avoided only on administrative grounds and City started the ill fated 2019/20 season with no firm plans to return to the city of Durham, still exiled in Willington.
If 2018/19 seemed a disaster, 2019/20 was even worse, with City only registering two wins and two draws from their 26 games, sitting rock bottom and seemingly destined for the Wearside League before the season was expunged due to Coronavirus.
During the enforced break City announced a coup in attracting former Celtic and Aston Villa winger Didier Agathe to take over as manager. Agathe has links to a football academy in Stokesley and it is anticipated that links will be built with Durham City despite the geographic disparity.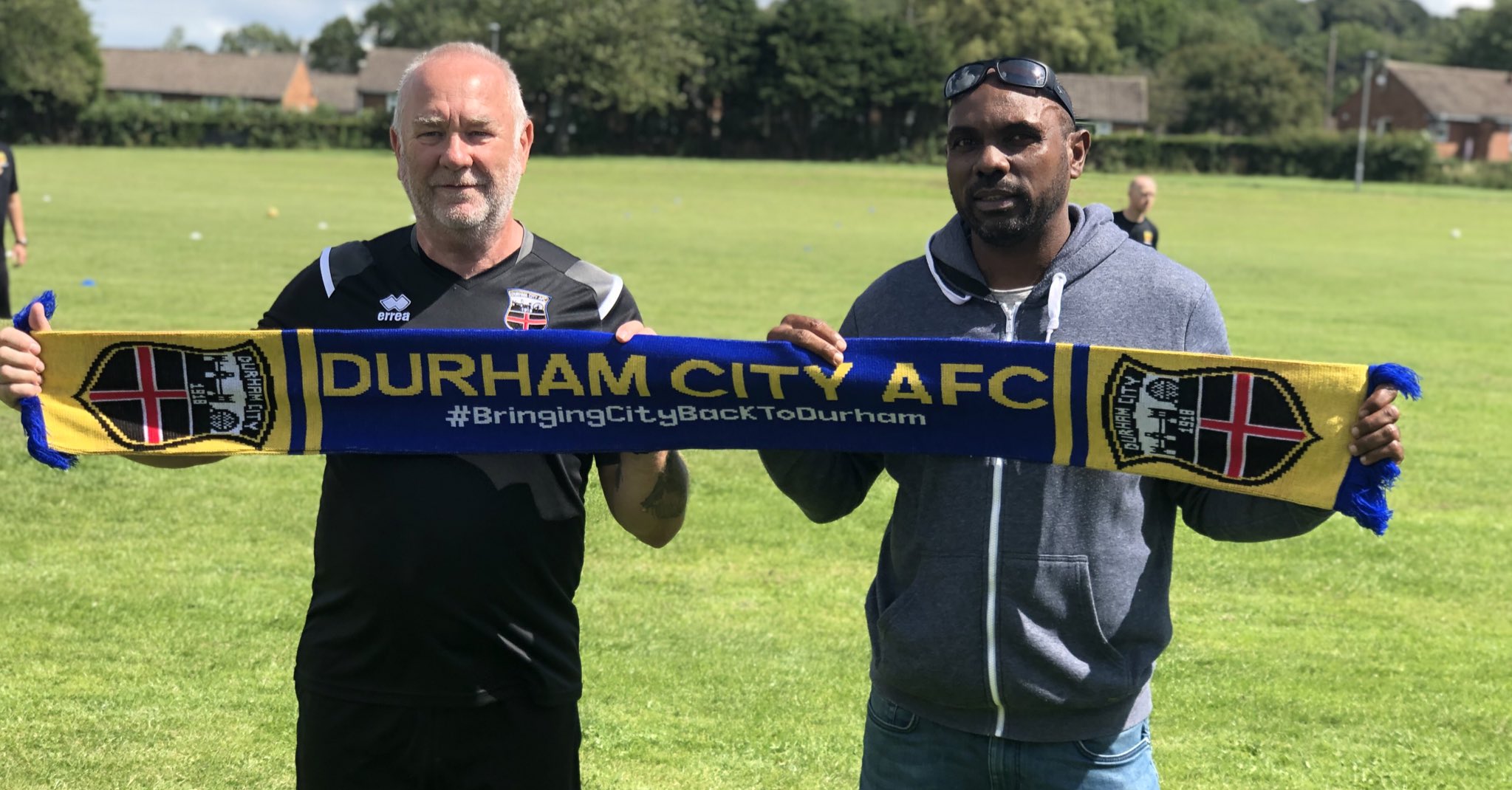 Since announcing Agathe would be taking over, City's social media has been awash with postivity. A number of Celtic fans have bought the Agathe/Celtic inspired third kit with promises of coming down to watch City in action. New signings have also been unveiled with regularity throughout the season, many with a promising pedigree. Three Dutchmen, Quentin Van Veenendaal, Gio Rojer and Jelaino Fonseca have all signed for the club having once been on the books of top flight clubs in the Netherlands.
With Agathe on board and some promising signings so far, City are looking to make the most of their reprieve, but their long term aim has to be a return closer to home to avoid Durham United or even newly formed Durham FC from picking up the mantle of the football team of Durham, one City held themselves for almost 100 years off and on.
---
---